The marriage of actress Tracey Boakye to her longtime partner Frank Badu Ntiamoah has been the subject of intense national debate.
The cross-bearer of the barrage of commentary—both positive and negative—has finally cleared the air over her extramarital affairs.
On July 28, 2022, the pair exchanged vows in a colourful ceremony that was only open to those who were invited.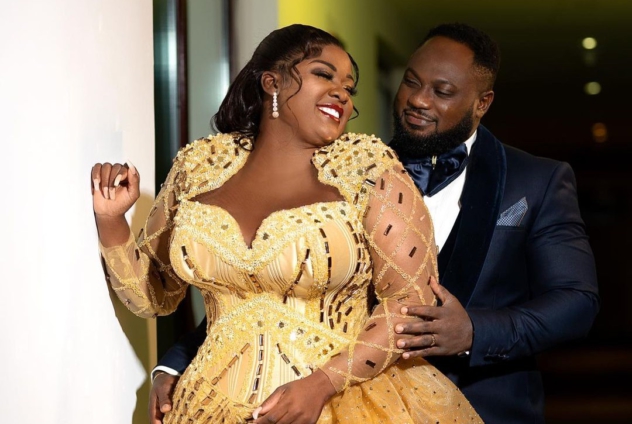 Allegations that Tracey Boakye had stolen her lover from her Godmother Vivian Jill began to circulate before the couple had a chance to enjoy their honeymoon and a happy life.
The commotion on social media almost overshadowed the beauty and joy of the wedding, but some close friends, notably Afia Schwarzenegger, defended Tracey by revealing that Frank and Vivian Jill had formally ended their 10-year relationship.
Nearly a year after their wedding, Tracey Boakye has finally addressed the majority of the controversies in an official capacity.
The mother of three stated during her first Instagram Live in three years that she and Frank dated for 13 years before deciding to be married.
Tracey stated, "My husband doesn't want me to talk about him, he doesn't like trouble. He was my ex. We didn't just meet and start dating. We were childhood lovers who finally settled. We were lovers for 13 years, broke up, and finally settled. I met my husband 13 years ago."
"I feel like God has opened the doors of heaven. I feel like I am in paradise. True love is sweet. You have inner peace and you don't even think about anything. That's how it feels when you find true love" she stressed.
In actuality, the two had split up after dating before getting back together to make the risky decision to be married.
The actress and movie producer gave birth to a child less than a year after getting married.
---
We welcome your stories and promotional content! Whether you have a captivating tale to share or want to advertise your brand, we'd love to hear from you. Simply send us an email at info@ghentmultimedia.com or call us at (+233594103704).
Also, don't forget to join our news group on WhatsApp to stay updated with the latest news and events. Please note that all submissions must be in English language. We look forward to hearing from you.