Officials announced on Wednesday that Tori Bowie, an American track standout and three-time Olympian, had passed away. She was 32 years old.
Icon Management, Inc., the company that was in charge of representing Bowie, first tweeted the information. Since then, Bowie's death has also been recognised by sports officials.
"We're devastated to share the very sad news that Tori Bowie has passed away," the agency said. "We've lost a client, dear friend, daughter and sister. Tori was a champion…a beacon of light that shined so bright! We're truly heartbroken and our prayers are with the family and friends."
The Associated Press claims that Bowie was discovered on Tuesday in her Florida home. She died from complications of childbirth, according to an autopsy report.
"We join our friends at USA Track & Field and across the Olympic community in mourning the passing of 3x Olympic medalist Tori Bowie," Team USA wrote on Twitter. "She was an admired friend, teammate, and a great representative of Team USA. We send our sincere condolences to all who know and loved her."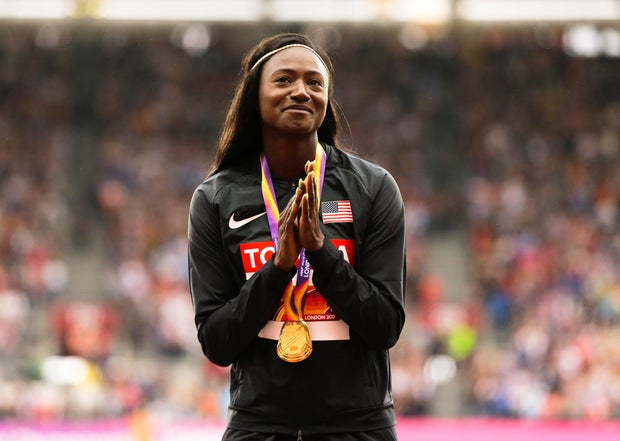 The Olympics applauded the accomplished sprinter, who won three medals at the 2016 Olympic Games in Rio and became a two-time world champion runner by winning the 100-meter race and relay gold at the 2017 World Championships in London. The Olympics cited the tweet from Bowie's management company in its statement.
"Shocked and deeply saddened to learn of the sudden passing of Olympic gold medallist Tori Bowie," International Olympics Committee President Thomas Bach said in a statement responding to her death. "In this moment of grief, let me express my heartfelt condolences to her family and friends. The sports world has lost a true champion."
Bowie, who was up in Sand Hill, Mississippi, participated for her undergraduate track and field team at the University of Mississippi, where she won the long jump competition twice in the NCAA championships. She represented Team USA in Rio for the 2016 Summer Olympics, where she finally took home silver in the 100-meter sprint and bronze in the 200-meter sprint as well as a gold medal with her teammates for the 100-meter relay.
---
We welcome your stories and promotional content! Whether you have a captivating tale to share or want to advertise your brand, we'd love to hear from you. Simply send us an email at info@ghentmultimedia.com or call us at (+233594103704).
Also, don't forget to join our news group on WhatsApp to stay updated with the latest news and events. Please note that all submissions must be in English language. We look forward to hearing from you.