In a speech indicating the Coalition will resist changes to resource taxes and environmental regulations and want to tie them to inflation in energy costs, Peter Dutton asserted that Labor "wants gas gone" and that the Coalition "wants gas back."
The opposition leader will use the association's convention to call on the gas industry to "fight for your sector" alongside the Coalition, despite the Australian Petroleum Production and Exploration Association supporting the Albanese government's planned amendments to the petroleum resource rent tax.
Dutton referenced Ronald Reagan's 1981 response to the oil crisis by letting "freedom solve the problem through the magic of the marketplace" while speaking remotely to the conference in Adelaide.
Dutton criticized a number of Labor policies, including the temporary cap on coal and gas prices and reduced funding for gas exploration and infrastructure, which included exclusion from the national reconstruction fund. He also criticized the mandatory code of conduct, which ensures a supply of gas at fair prices.
The competition regulator and industrial gas users have hailed the price ceiling, and according to Treasury, it will save consumers $230 on their electricity bills compared to bigger predicted increases.
Dutton argued that although the cap "was meant to shield Australian families, businesses and manufacturers from price spikes … power prices continue to go up".
Australia was being hit hard by price increases in May 2022, which were partly sparked by Russia's invasion of Ukraine. The Coalition postponed the disclosure of price increases of up to 20% during its final month in government.
Dutton claimed that the safeguard mechanism amounts to "a new carbon tax law" that would be "financially crippling" for the industry.
"There will be no choice but to pass that cost on to consumers, which impacts in a negative way on inflation."
By contrast, "the Coalition trusts industries instinctively to set their own pathway to net zero emissions by 2050", he said.
"The markets require that. The media requires it. Your investors require it."
Dutton said the sector was liable to pay a 40% tax rate on offshore oil and gas projects, but "because the Labor government can't manage money, it wants to hit you with the hammer of taxation".
Samantha McCulloch, chief executive of Appea, said on Wednesday that the changes "provide greater certainty" to the industry about "the future investment required to maintain both domestic and regional gas supply security for our customers" following a similar attack by shadow treasurer Angus Taylor on the PRRT changes intended to net just $2.4bn over four years.
"Australia needs a strong and sustainable future for the gas industry, and that requires stable and enduring policy settings, and for that we consider bipartisan support is important," she said in an interview with Guardian Australia.
Using the proposed amendments to the Environment Protection and Biodiversity Conservation Act and the envisioned Environmental Protection Agency, Dutton declared that "the worst is yet to come."
"Yes of course, we all want to protect and improve our environment. But we also have an obligation to promote the longevity of Australian industries and businesses which underpin our economic prosperity."
While Chris Bowen, the energy minister, and Anthony Albanese have often expressed their support for the gas industry, Dutton charged that Labor was motivated by "renewable zealotry" and that "their actions betray their words".
"I want to say to you today that a returned Coalition government will work once again with your sector to put more supply into the domestic system.
"To make sure that we have more gas available for export so that we can continue to grow the sector. Just like Reagan, we will wind back government intervention."
Dutton urged the gas sector "to fight for yourselves" and "speak up frankly and more avidly". "We need you to work with us to push back against this government's detrimental policies."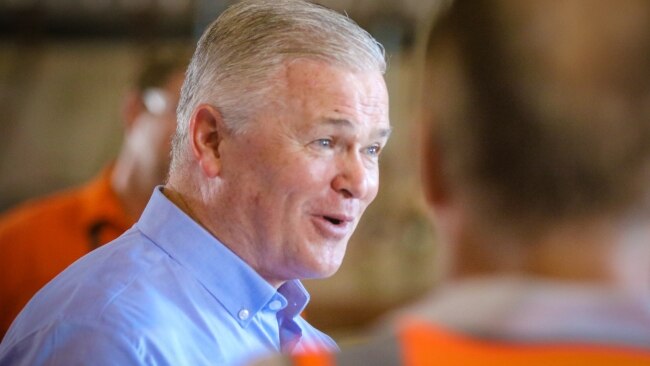 Following the opposition leader, Santos CEO Kevin Gallagher focused on a previous speech by SA Energy Minister Tom Koutsantonis, who reminded the industry that the state government was "at your disposal" and noted Dutton's remarks. The phrase "breath of fresh air" was used by Gallaghar to express this.
"It's not very often in our industry that we are so warmly welcomed and appreciated for the contribution that we make to Australia's world-class living standards. And for the leading role we play in the energy transition to net zero," Gallagher said.
Bill Hare issues a threat of losing the "biggest opportunity"
In light of the fact that "our companies will lose market share" as the rest of the world decarbonizes, Bill Hare, a physicist and climate scientist, said that Dutton's stance ran the risk of putting Australia behind schedule.
"If Peter Dutton is serious about the longevity and sustainability of Australia, he would be calling for a more rapid rollout of renewables and green hydrogen for the sector's steel, fertiliser, cement industries that are hard to abate," Hare said.
"This is literally the biggest opportunity Australia has had in a very long time and the risk is if we don't take it now we will lose it."
Although the budget anticipates a 10% increase in power rates, Bowen told reporters on Saturday that price increases were anticipated to reach up to 40% or 50% before Labor's market interventions.
Household rebates of up to $500 and the price cap, according to Bowen, were put in place temporarily "to deal with a specific circumstance caused by the spike in energy prices around the world, caused by the illegal and immoral invasion of Ukraine".
"Of course, ultimately, we continue on the transformation of our energy grid because the most, the cheapest form of energy is renewable energy and under this government that is the energy which will get support."