In today's digital age, online scams have become increasingly prevalent, targeting unsuspecting individuals in various forms. One of the most devastating scams is the romance scam, where scammers exploit the vulnerability of those seeking love and companionship online. Recently, the arrest of popular Ghanaian social media influencer, model, musician and businesswoman Mona Faiz Montrage, better known by her stage name as Hajia4Reall shed light on the importance of being vigilant and cautious when engaging in online relationships.
In this article, we will delve into the world of romance scams, explore the details of Hajia4reall's arrest, and discuss three crucial lessons that everyone must learn from this incident.
1. Introduction
The allure of finding love and connection on the internet has captivated millions of individuals worldwide. Unfortunately, this has also created an opportunity for scammers to prey on the unsuspecting. Romance scams involve creating fake online personas to manipulate victims emotionally and financially. These scammers invest time and effort in gaining the trust of their victims, only to exploit them later on.
2. Understanding Romance Scams
2.1 What is a Romance Scam?
A romance scam is a type of fraud where criminals create fake online profiles on dating platforms or social media to establish romantic relationships with their victims. They often use stolen photos and personas to appear genuine and trustworthy. Once they establish a connection, scammers employ various tactics to manipulate their victims into sending money or providing personal and financial information.
2.2 Hajia4reall's Arrest
Hajia4reall, a prominent social media influencer, recently found herself embroiled in a romance scam. She was arrested in the United Kingdom on November 10, 2022, and was extradited to US on May 12, 2023.
U.S. Attorney Damian Williams said: "As alleged, Mona Faiz Montrage was a member of a criminal conspiracy that specifically targeted older Americans through romance scams.  These scams can be both financially and emotionally devastating for vulnerable victims.  Thanks to the efforts of our law enforcement partners, Montrage was arrested abroad and has been brought to the United States to face justice."
3. Lessons Learned
Hajia4reall's unfortunate experience serves as a reminder to everyone about the importance of being cautious and vigilant when engaging in online relationships. Here are three essential lessons we can all learn from her arrest:
3.1 Be Skeptical of Online Relationships
It's crucial to approach online relationships with skepticism, especially when the other person's intentions are unclear. Take the time to verify the authenticity of their profile and exercise caution when sharing personal information or sending money. Trust should be earned gradually, and red flags should never be ignored.
3.2 Guard Your Personal and Financial Information
Protecting your personal and financial information is paramount in the digital age. Romance scammers often exploit their victims financially by tricking them into sharing sensitive data. Never disclose sensitive information, such as bank details or social security numbers, to someone you've only met online. Legitimate partners will understand and respect your boundaries.
3.3 Report Suspicious Activities
If you suspect that you are being targeted by a romance scammer or have fallen victim to one, report the incident immediately to the relevant authorities. By reporting these activities, you not only protect yourself but also contribute to the collective effort in combating online fraud and helping potential victims.
4. Protecting Yourself from Romance Scams
While romance scams can be devastating, there are steps you can take to protect yourself from falling victim to such schemes. Here are five essential measures to safeguard yourself from romance scams:
4.1 Educate Yourself about Romance Scams
By understanding the tactics employed by romance scammers, you become better equipped to recognize and avoid potential threats. Stay informed about the latest scamming techniques and common red flags to ensure you're well-prepared to navigate the online dating landscape.
4.2 Verify the Identity of Online Contacts
Before investing emotions or sharing personal information, verify the identity of the person you're interacting with online. Conduct a reverse image search or ask for a video call to confirm that the person matches their online persona. Genuine individuals will understand and comply with your request.
4.3 Avoid Sharing Personal and Financial Information Prematurely
To protect yourself from potential financial exploitation, refrain from sharing personal and financial information prematurely. Scammers often use this information to manipulate and deceive their victims. Take the time to establish trust and ensure that the other person has genuine intentions before sharing any sensitive data.
4.4 Build Relationships Slowly and Cautiously
Building a genuine connection takes time. Be patient and cautious when forming relationships online. Genuine individuals will understand and respect your desire to take things slowly. If someone is pressuring you for quick commitments or financial assistance, it's a clear warning sign of a potential scam.
4.5 Trust Your Instincts
Your instincts are a powerful tool when it comes to navigating online relationships. If something feels off or too good to be true, trust your gut feelings. Listen to your intuition and be willing to step away from any situation that doesn't feel right. Your emotional and financial well-being should always be a top priority.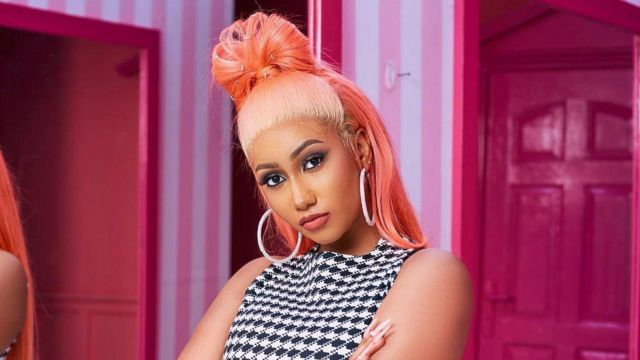 5. Conclusion
The arrest of Hajia4reall serves as a wake-up call to the dangers of romance scams lurking in the digital realm. By understanding the tactics employed by scammers and adopting a cautious approach, we can protect ourselves and prevent falling victim to these fraudulent activities. Remember to be skeptical, guard your personal and financial information, report suspicious activities, and follow the recommended steps to safeguard yourself from romance scams. Love and connection are beautiful aspects of life, but it's essential to ensure that they blossom in an environment of trust and authenticity.
6. FAQs
Q1: How common are romance scams? A1: Romance scams are unfortunately prevalent, with thousands of victims falling prey to them each year.
Q2: Are all online relationships scams? A2: No, not all online relationships are scams. However, it's crucial to exercise caution and be vigilant when building connections online.
Q3: Can romance scammers be caught and prosecuted? A3: While it can be challenging to catch romance scammers due to their use of fake identities, law enforcement agencies are actively working to combat these crimes.
Q4: Can romance scam victims recover their lost money? A4: Recovering lost money from romance scams can be difficult, but victims should report the incident to their local authorities and seek professional advice.
Q5: How can I support a friend who has fallen victim to a romance scam? A5: Offer your support, encourage them to report the incident, and help them seek professional assistance to navigate the emotional and financial aftermath of a romance scam.