Ludacris, a US rapper and actor, has received a star on the Hollywood Walk of Fame.
The performer, whose real name is Chris Bridges, thanked his supporters, family, and "the people who showed up for me" and vowed to "continue to shatter stereotypes" throughout the ceremony.
With songs like Stand Up, Get Back, Southern Hospitality, Number One Spot, Money Maker, and My Chick Bad, he has sold more than 24 million albums worldwide.
He has played a prominent role in the popular Fast And Furious series.
Rapper LL Cool J and actor Vin Diesel, who both delivered speeches, joined rapper Ludacris at the Los Angeles celebration.
His daughter, who had already informed him that she wouldn't be in Los Angeles for the occasion, also caught him off guard.
Karma Bridges called her dad "the perfect example of a father," "my rock, and my hero."
Diesel said that he would not "be here" if it weren't for Ludacris, praising the rapper's curiosity, devotion, and thankfulness.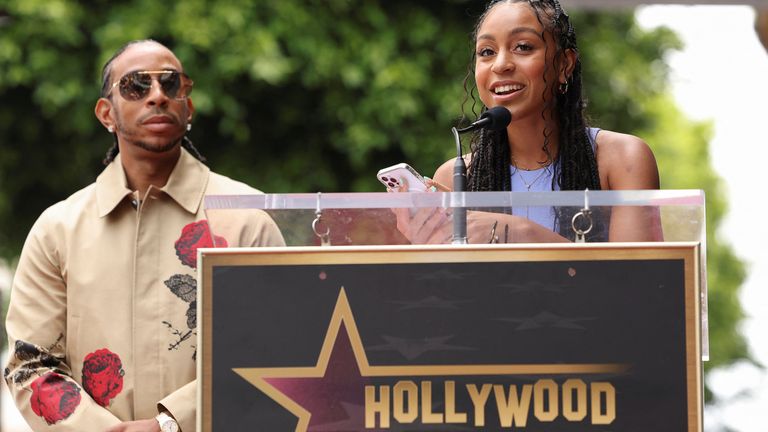 "We've never seen anybody dominate the music world and then come and dominate cinema while being entrepreneurial in the way that he is," he said.
Ludacris hailed his "village" in his own words for assisting him in going from "a young man with a dream" to being recognized on the Walk of Fame.
"No matter what people say I can't do, I will continue to shatter those stereotypes and show people it's possible in order to make everyone who got me here proud," he said.
"Because you all inspire my hard work and dedication to receive this star today. I'm motivated by legacy and history.
"And I am a culmination of the people who showed up for me today believing in me and pushing me to inspire me. I'm a reflection of you."
The Hollywood Walk of Fame has awarded Ludacris a star number 2,756 in the category of Motion Pictures.
At 6426 Hollywood Boulevard, to be precise.